Nissan Rogue vs. Chevy Equinox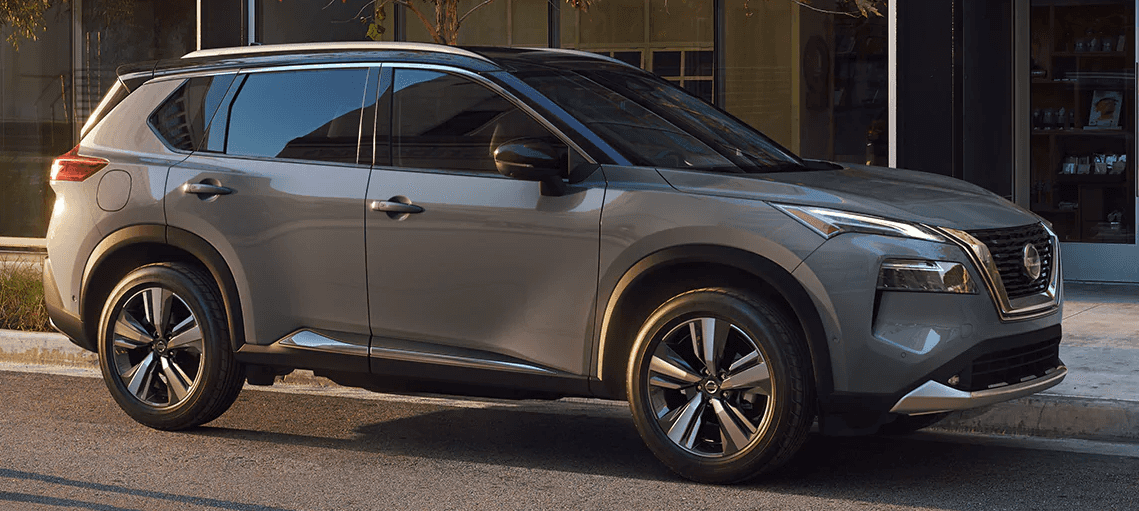 Overview
So many factors go into choosing a vehicle: your lifestyle, the number of passengers you routinely carry, and your basic preferences in vehicle size, power, and features. Most drivers today want a vehicle that's practical, easy to handle, well-appointed, and comfortable, which leads them to the booming crossover segment. Their blend of sedan driveability and SUV practicality is certainly attractive, and most are affordable and stylish. The Nissan Rogue has been popular for years for those reasons, but its redesign for 2021 makes it that much more desirable.
There's a lot of competition out there, though, and one of the redesigned Rogue's most prominent rivals is the 2021 Chevrolet Equinox. While there are some drivers who say they like to choose a domestic make to support American jobs, they may not know that the Rogue (and a number of other Nissan models) is built in Smyrna, Tennessee – and has been for years. Below, we'll take a thorough look at how these two crossovers compare.
---
Performance
The 2021 Nissan Rogue's 2.5-liter four-cylinder engine makes 181 hp, whereas the 2021 Chevrolet Equinox's base engine produces less: 170 hp. The 2021 Nissan Rogue also gets a continuously variable transmission (CVT) as opposed to the six-speed automatic transmission found in the 2021 Chevrolet Equinox. CVTs are lighter and smoother than traditional geared transmissions, and they tend to improve the vehicle's fuel economy. This is the case with the 2021 Nissan Rogue, as the FWD models get 27 mpg in the city and 35 mpg on the highway – even though one of the redesign improvements is the addition of stronger steel. Meanwhile, most of the FWD 2021 Chevrolet Equinox trims only return 26 mpg city/31 mpg highway (the AWD versions of the two models get about the same fuel economy, according to the EPA). And, if you're concerned about fitting your stuff in the back, note that the 2021 Rogue provides a total of 74.1 cubic feet of cargo space, which is quite a bit more than the 2021 Equinox's 63.9 cu. ft.
---
Active Safety Technologies and Driving Dynamics
Nissan has always been an innovative company, especially in the areas of safety technology and the continuing path toward fully autonomous driving. The 2021 Nissan Rogue has the most standard safety technologies in its class. Every trim level will be provided with the automaker's Safety Shield 360 suite of driver aids, which includes features like forward collision warning with automatic emergency braking and pedestrian detection, rear automatic braking, blind-spot monitoring with rear cross-traffic alert, lane departure warning, and high beam assist. Nissan's Intelligent Driver Alertness technology and rear door alert are included as well.
This model year debuts the ProPilot Assist with Navi-link feature, which functions as an advanced adaptive cruise control. It uses sophisticated mapping technologies to anticipate upcoming on-road events, like curves, interchanges, and junctions. ProPilot with Navi-link is also capable of adjusting the vehicle's speed based on traffic sign information. Although the 2021 Chevrolet Equinox includes a few standard conventional safety aids, like forward collision warning with automatic emergency braking and lane departure warning, other desirable technologies are only available at a higher cost. The '21 Equinox also lacks a driver alert system and rear door alert, and its adaptive cruise control system just can't compete with Nissan's more sophisticated ProPilot with Navi-link.
The 2021 Nissan Rogue's brand-new Vehicle Motion Control system is capable of predicting driver's intentions by monitoring steering, acceleration, and braking. Plus, it's able to autonomously take over for the driver if it thinks they're in need of assistance. Vehicle Motion Control works alongside Nissan's available Intelligent All-Wheel Drive system and Drive Mode Selector. The 2021 Chevrolet Equinox's driving dynamics are not as sophisticated as Nissan's, and its all-wheel drive system lacks selectable off-road and snow drive modes.
Interior Amenities
The 2021 Nissan Rogue's cabin is new and improved, with a spacious floating center console and a unique two-level dashboard, and it's simply nicer than the '21 Equinox's interior. Some of the Rogue's top optional features are a 10.8-inch head-up display (the largest in its segment), class-exclusive tri-zone automatic climate control, and pull-up sunshades for the rear doors. What's more, a standard 8-inch infotainment touchscreen is installed in the 2021 Nissan Rogue, while a class-leading 9-inch unit will be available. The standard infotainment touchscreen in the 2021 Chevrolet Equinox is 7 inches, and the largest available touchscreen is 8 inches.
Let's look at the standard equipment on each model's most-loaded version: The Platinum trim of the 2021 Nissan Rogue also gets triple-beam LED headlights, a moonroof, class-exclusive tri-zone automatic climate control, a class-leading 10.8-inch head-up display, wireless Apple CarPlay, remote-controlled folding seats, heated rear seats, and a heated steering wheel. The Premier trim of the 2021 Chevrolet Equinox is eligible for a moonroof, heated rear seats, and a heated steering wheel, but it does not offer the rest.
The 2021 Nissan Rogue's new electronic shifter also eliminates the need for mechanical equipment under the shifter, freeing up more storage space beneath the floating center console. The 2021 Chevrolet Equinox doesn't have an electronic shifter. To top it off, a fully-digital and customizable 12.3-inch gauge cluster is offered for the 2021 Rogue. The 2021 Equinox's largest gauge cluster is only 4.2 inches, and it's neither digital nor customizable.