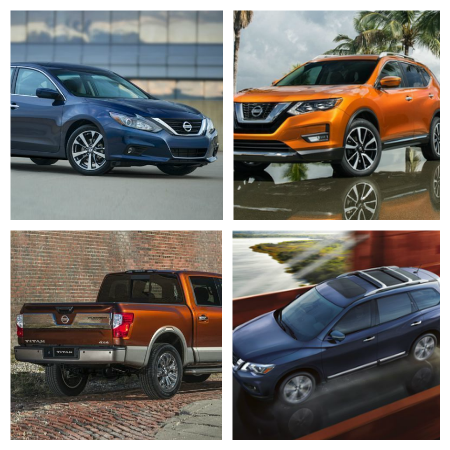 Introducing the Nissan Model Lineup Available in Western MA at Balise Nissan of West Springfield
When folks from Western MA are looking for a way to upgrade their morning commute, many drivers turn to us here at Balise Nissan of West Springfield and the many excellent models that comprise the Nissan lineup. Whatever you're looking for in a vehicle-be it something small and sporty or a road-commanding truck-the Nissan lineup doesn't disappoint. Nissan offers exceptional vehicles in all sorts of configurations: Coupes, Sedans, and Hatchbacks make up the smaller, passenger-focused offerings, while the Crossovers and SUVs and the Trucks and Vans hold some of the bigger models. Nissan's lineup also offers Performance Vehicles as well as earth-friendly Electric and Hybrid vehicles. Join us below as we take a closer look at some of the most exciting current Nissan offerings in Western MA.
Browse All Nissan Models
Nissan Coupes, Sedans, and Hatchbacks
Many of our customers from West Springfield, Springfield, Chicopee, Holyoke, Westfield, MA & Enfield, CT find themselves drawn Nissan's sedans, like the Nissan Maxima, Nissan Altima, Nissan Sentra, and Nissan Versa Sedan. Sedans differ from coupes only slightly, generally offering a little more cargo and passenger volume, with the distinct advantage of having four doors as opposed to two, handy when you're trying to get kids to and from swim practice!
Coupes and Sedans are a big part of the Nissan lineup. They're great for folks in urban areas, commuters, and families on the smaller side. With a coupe, looks definitely matter, and you'll be looking mighty fly in the Nissan 370Z Coupe or the Nissan GT-R Coupe-both of which are also part of Nissan's Performance Vehicles offering.
When it comes to hatchbacks, Nissan doesn't leave anyone out. There's the versatile and fantastic Nissan Versa Note Hatchback or the all-electric Nissan LEAF to choose from. Hatchbacks are excellent at using space efficiently. The hatchback door allows you easy access to your cargo area, while the smaller stature of the hatchback vehicles make them easier to navigate urban or crowded areas in.
Explore Cars:   Versa   |   Versa Note   |   Sentra   |   Altima   |   Maxima
Nissan Performance Vehicles & Sports Cars

Of course, sometimes our driving habits are less dictated by circumstance and more by passion. In times like that, the best way to satisfy that need for speed that lives inside you is by strapping into one of Nissan's fearsome and thrilling performance vehicles. We mentioned them above, but they bear repeating: the Nissan 370Z Coupe or the Nissan GT-R Coupe. If you prefer the feel of the wind in your face, you can also opt for the Nissan 370Z Convertible.
Nissan enjoys a rich history and a rich present of performance racing, and many of our customers from West Springfield, Springfield, Chicopee, Holyoke, Westfield, MA & Enfield, CT also consider themselves fans of Nissan NISMO-Nissan's professional motorsports brand. If you're looking for a little taste of that in your everyday life, here at Balise Nissan of West Springfield, we've got the Nissan performance vehicles to make it happen!
Introducing Nissan's Crossovers and SUVs
While most people think of your traditional sedan when they imagine a car, Nissan's crossovers and sports utility vehicles have been increasingly popular over the past few years. Crossovers like the Nissan Juke offer a 'best-of-both-worlds' aspect, delivering much of the utility one would expect from an SUV, while being a bit smaller, more maneuverable in tight spaces, and more nimble on the road. They're great for families on the go, or for individuals who have a lot to get done. Folks who need even more utility will certainly enjoy the Nissan SUVs, like the Nissan Rogue, the Nissan Murano, the Nissan Pathfinder, and the Nissan Armada. SUVs are ideal for hauling both people and cargo, and if you're riding in a Nissan SUV, you'll be doing it with unparalleled style and comfort.
Explore SUVS:   Juke   |   Rogue   |   Rogue Select   |   Murano   |   Pathfinder   |   Armada
Nissan Trucks and Vans
But sometimes your driving demands are more than an SUV can handle. In those times, drivers from Western MA tend to zero-in on Nissan's offering of trucks and vans. Whether it's a lot of cargo or a lot of people you need to move, Nissan gives you the right tools for the job in the Nissan TITAN® XD pickup truck and the Nissan Frontier pickup truck-or if you're bringing more people than things, the Nissan Quest minivan or the Nissan NV Passenger Van. If you've got a lot on your plate, these are the vehicles that will be well up to the task!
Explore Trucks:   Frontier   |   Titan    |   Titan XD
Explore Vans:   Quest   |   NV Passenger  |  NV Cargo NV 1500  |  NV Cargo NV2500 HD  |  NV Cargo NV3500 HD  |  NV200
Electric and Hybrid Cars

Last but certainly not least, Nissan also offers electric and hybrid vehicle options for those that want an eco-friendly ride to follow along the lines of how their live their lives. If that sounds like you, you're sure to appreciate the all-electric Nissan LEAF. Imagine how great it will feel to fly by all the gas pumps when you have an all-electric vehicle, never paying for gas again! We imagine it won't be too difficult to say goodbye to the fill-up station!
Explore Green Cars:   Leaf