2023 Nissan Ariya for Sale in West Springfield, MA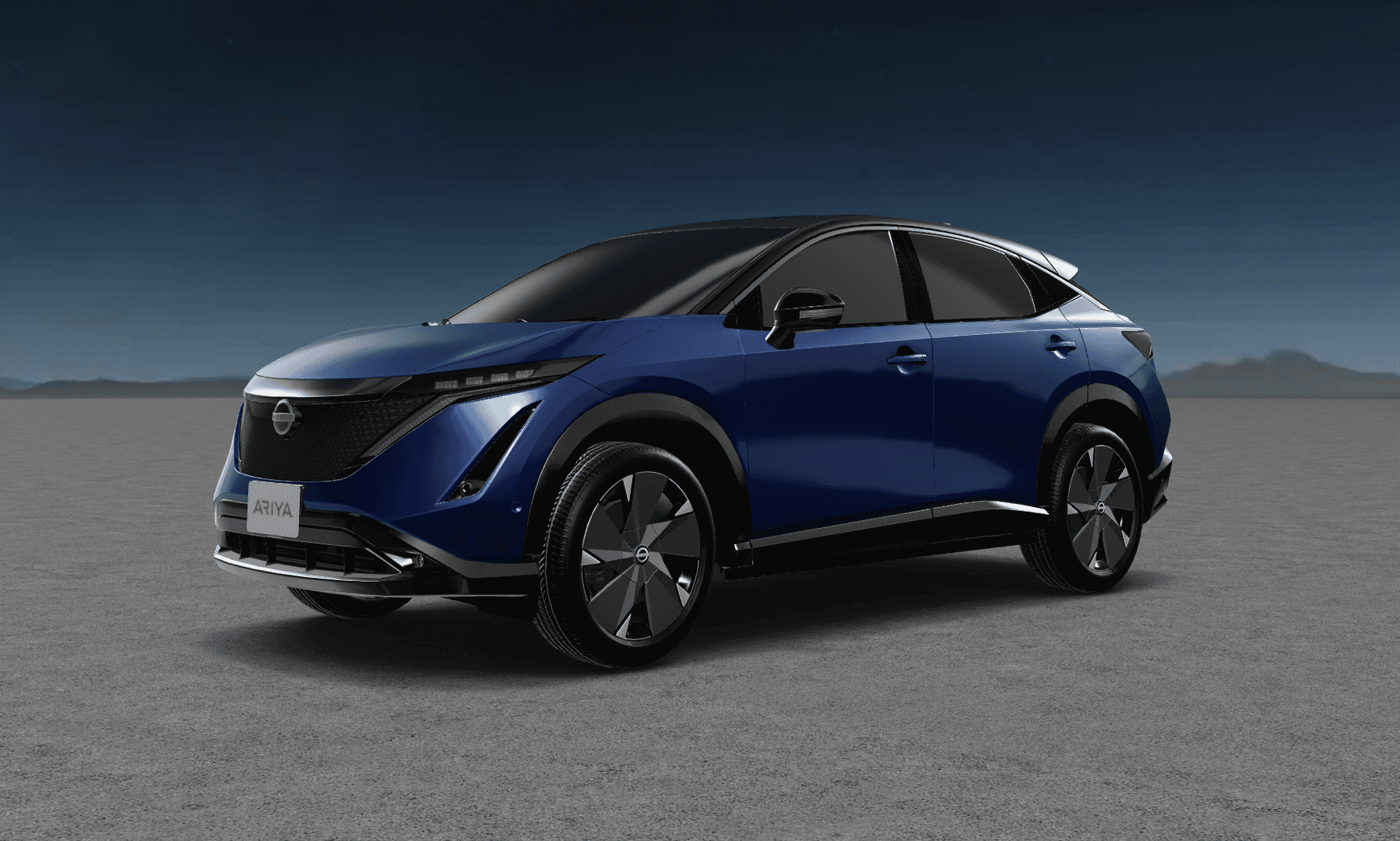 Overview
Nissan is gearing up to release its first fully electric crossover for model year 2023, the Ariya. This dynamically styled, long-range EV will be one of the key players in ushering in a new era of sustainability not just for Nissan but the entire auto industry. The Ariya represents the beginning of the Nissan NEXT global transformation plan, the aim of which is to bring about a new electrified brand identity for the company. Not only that, but the Ariya will debut some truly cutting-edge highlights, including an active parking assist system and an entirely new platform that increases interior space and provides exceptional ride handling. Deliveries of the '23 Ariya will begin this fall, with the front-wheel drive version released ahead of those with all-wheel drive.
Next-Generation Elegance
When the '23 Ariya hits the market, it will upend the current conventions concerning style, function, and luxury. This stunning EV's simple yet futuristic appearance is characterized by sleek lines and a graceful profile. For instance, it will feature an aerodynamic "shield" grille that houses sensors for the vehicle's advanced driver-assistance technologies and displays Nissan's redesigned logo. Meanwhile, the rear end will showcase a unique one-piece light blade that shines red when the vehicle is in motion and turns black when it's parked.
Inside, the 2023 Ariya is all about elegance, with a premium placed on comfort and simplicity. It features a flat, open floor layout, slim-profile Zero Gravity seats that maximize legroom, and a series of sound-reducing materials that yield a serene ride. What's more, the Ariya's modern instrument panel favors haptic-touch sensors over traditional buttons for controlling the various vehicle systems, and underneath the instrument panel is a center storage box that contains a fold-out tray should you need a place to eat or get some work done on the go. There will also be an available motorized center console with position memory that can be custom-configured.
Trims and Electric Architecture
The upcoming Nissan Ariya will be completely propelled by electricity and offered in four trims: Venture+, Evolve+, Premiere, and Platinum+. Front-wheel drive will be standard on the first three trims, but dual-motor e-4ORCE AWD will be standard on the Platinum+ and available for the others with later availability. With both drivetrains, buyers have the option of choosing either a 63 kWh or 87 kWh flat-design battery pack that sits directly in the center of the vehicle for an optimal center of gravity and near-perfect 50/50 weight distribution. Single-motor Ariyas will produce 238 hp, while the dual-motor models will make 389 hp. Nissan asserts that the FWD Venture+ trim will be able to travel approximately 300 miles on a single charge.
Groundbreaking Technologies
Nissan will pack the Ariya with sophisticated tech for driver assistance and connectivity. In terms of safety, it will get the next-generation ProPILOT Assist 2.0 system, which lets drivers go fully hands-free in certain conditions, as it can change lanes, pass slow vehicles, and exit highways without driver intervention. The ProPILOT Assist 2.0 system will also be compatible with navigation that uses 3D map data, which can better detect roadway types and speed-limit data and adjust performance accordingly. Nissan Safety Shield 360 will also be issued to augment other critical safety systems. It consists of automatic emergency braking with pedestrian detection, blind-spot monitoring with rear cross-traffic alert, lane departure warning, automatic high beams, and reverse automatic braking.
As for multimedia, the Ariya will support a novel human-machine interface infotainment system with over-the-air firmware updates. This system includes a horizontal 12.3-inch touchscreen with wireless Apple CarPlay and Android Auto, Amazon Alexa, Bluetooth hands-free phone and audio streaming, and a virtual personal assistant that responds to advanced natural language voice commands. The touchscreen also links up with a 12.3-inch digital instrument cluster, which results in 24.6 inches of total digital screen space. The two screens come together in a wave-like shape that's easy for drivers to view and operate while driving.